The Final Race Report of what has been a very successful and exciting 2017 at Focus on Fitness.
Many thanks to all athletes for their continued support, commitment and enthusiasm. Time for recovery and planning for 2018!
Stook 10 Mile
This very popular race, with its challenging route is a great run to see out the year. Based in Dungarvan Co. Kilkenny it is noted for its hilly course but also for its timed flying mile downhill towards the finish. Focus on Fitness was represented by local man Tony Hughes who finished in 1:13:10, next was Neil Griffin who finished in 1:19:36 ,followed closely by Nigel O'Sullivan who crossed the line in 1:20:05.
Old Parish Turkey Trot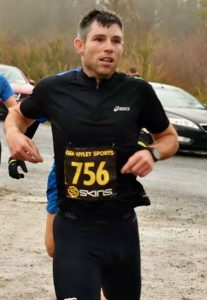 Shane Power ran this local 5 mile race as part of his transition back to running. He ran a great race finishing 10th place in 31:12, more great things to come from Shane next year.
Beat the Train for DSI 10 Mile
This new, novel race took place on the Waterford Greenway. Starting from Kilmeaden railway station the route followed the Waterford and Suir Valley Railway line into Waterford and back to Kilmeaden.
The race was limited to 250 entrants, was in aid of Down Syndrome Ireland and  sold out very fast, as soon as entry opened.
The tourist train covered the route as well, full with spectators supporting all the way. The pressure was on to stay ahead of the train.
Jason Travers and I were first back from Focus on Fitness, finishing together  in 1:03:11, Brian Jacob was next in 1:06:46, next was David Devine in 1:07:30, Brendan Mooney in 1:08:32, followed by Anthony Kirwan in 1:08:33, Ken Dickenson in 1:09 even, Siobhan Kennedy was next in 1:10:11, a great result taking 3rd female overall, J.P Williamson crossed the line  in 1:14:14, Julie Monaghan finished in 1:24:24,  Ann Hennebry ran 1:26:00.
Jill Stafford was pacing 1:40 and Liam Power had a very enjoyable race crossing the line in 1:40:05.
This was a great race and hopefully will be back on the calendar next year.
Clontarf Half Marathon
The annual and popular Clontarf Half Marathon took place on Nov 25th and Ger, Liz and Kate Nolan making it a family affair for the race. The flat course has it's challenges with a good section on the beach on the way out and back, and is generally quite windy in sections. Kate was back home from Cambridge for the race and ran in 1:43:19, Ger finished in 1:51;27,  and Liz crossed the line in 1:58:31.
Irish  Provinces Indoor Rowing Competition
Winter time allows for some good training back on the Erg and the indoor rowing competitions are a great change with some tough competition. The Provinces was on in UL, Seamus Wall and I took part in the 2 km race.
Seamus was up first, taking part in a rowing competition for the first time  in the Para-Athlete MAS category. Seamus pulled the 2 km in 10:25 winning the category and setting a record for the distance. I took 2 sec off my previous best for the 2 km pulling 6:38 and finished 7th place in my category. The nationals will be on in January 2018 so plenty more hard training to be done.
Waterford AC Half Marathon
This must be undoubtedly one of the best Half Marathon races in Ireland at the moment. Another sell out race with 2,000 + people taking part on the day. Based out of the fabulous WIT Arena and with perfect weather conditions it was going to be an enjoyable race.
The racing up front was fast and furious from the gun with a super top 10 taking part, with the winning time of 1:06:26 for Paddy Hamilton and the top 3 all within 20 sec of each other.
A big crowd of Focus on Fitness athletes took part with John Hayden first across the line in 1:20:13, Jason Travers was next in 1:21:30, I was next in 1:21:36. The next few were very close with Brian Jacob cross the line in 1:28:04, Stephen Butler ran 1:28:28,  Ken Dickenson had a great race finishing in 1:28:42, an 11 min PB and first time sub 90 min. Anthony Kirwan was next and finished in 1:28:59, a new PB and first sub 90 min. Tony Mc Mahon ran 1:30:30, Siobhan Kennedy crossed the line winning her age group in 1:31:49, Anthony Hughes was next in 1:32:32.
Ciara Mc Sweeney ran a 9 min PB in 1:34:19, Nigel Sullivan finished out the year with another good race in 1:47:20, Ger Nolan running another half  7 days after Clontarf ran 1:48:24.
It was very close again for the next 3 people, Julie Monaghan ran a PB in 1:49:36, Neil Griffin crossed the line in 1:49:39 followed closely by Ann Hennebry in 1:49:44. Peter Whelan ran a PB of 6 min finishing in 1:54:21, Sandra Rellis and Rhona Hayden finished together in 1:55:10, Norma Goggin was next in 1:55:49, Aileen Windle ran another PB of 2 min running 1:57:37, Jill Stafford ran 1:59:47, and Edwina Butler ran 2:02:20.
Susan Hayes was back racing after completing Ironman Barcelona in October. In what is becoming an annual tradition she was in the company of her father Nicky Jacob, they finished together in 2:14:14.
Well done to Waterford AC on another great race, and thanks to the many marshals and supporters on the route. Well done to everyone who took part, and most important a great new hat to add to the collection.
Thanks very much to everyone and well done, time for some rest and recovery and to get planning for another big year in 2018.
#throughdedicationsuccesswillcome
NOTES
Functional Movement Classes continue every Monday night, 7pm in WIT ARENA **OPENTOALL**
Track Session every Tuesday, RSC , 5pm **OPENTOALL**

I can be contacted through email or social media if you have any questions.
 Martin