SET THAT NEW PERSONAL GOAL
I had been watching this event with interest since it started in 2014, having competed in 7 Ironman races over the last 7 years  this looked like the challenge to change things up a little. In 2015 I decided to give The Race a go but missed the entry!  So in 2016 I made sure that I applied in time.
The Race is a six  stage 'Ultimate Endurance' race over 250 km throughout the rugged but beautiful countryside of Donegal, made up with running, kayaking, biking and mountain running (scrambling) finishing with a Marathon through Glenveigh National Park.
I started my training at the end of 2015 competing in my first adventure race in Killarney, I followed this with  a race in Skibereen; what an eye opener and introduction this was to adventure racing. This type of racing is tough and I needed to get a plan together for the next 5 months. The starting point was to get into a kayak, thanks to Neil Griffin for a loan of his 'sit on top kayak' and with the help of David Connolly to get me going in a straight line, plenty of time on the 'concept 2' rowing machine and some time in Carrigavantry soon the kayaking was improving. Over the winter months the tough sessions were the early 6 am run sessions, morning and evening sessions, back to back big training days  and then the big brick sessions building up to 10 hrs sessions coming closer to race day. The weather played a big part in training and it was going to be a major factor on race day, the right clothing would be the difference between finishing or not!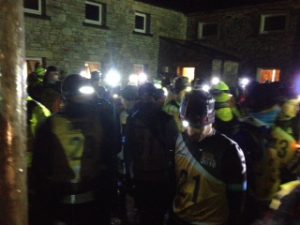 Race weekend came around quickly and I made the long trip to Donegal with Siobhan and Cooper. Bike dropped to Rathmullan and 6 boxes dropped to Gartan Adventure Centre, nothing only the race briefing left. The main talk in the briefing was about the kayaking and how rough it would be and above all "don't turn over your kayak"!  I had nightmares for the few hours sleep I got worrying about this. The time had come, 3.30 am the alarm going off, time for some breakfast get the gear on and get to the start line for   4.45 am. This was an unreal experience standing on the start line at 5 am, spilling rain looking up the road into the darkness and  into the unknown. At exactly 5 am  the count down started and we were on our way.
Stage 1 – The Run
The first run was just over 14 miles, running along country roads and even at this hour of the morning the support out on the road was incredible. I started at a relaxed pace and got settled in to the run heading towards Ramelton. You could hear the cheers from supporters before you arrived into Ramelton and my support crew of Siobhan, David Connolly, Nicola Dunphy, Brian and Katie Jacob were there to cheer me on into transition. Stage 1 – (1 hr 46, 4th position).
Stage 2 – The Kayak.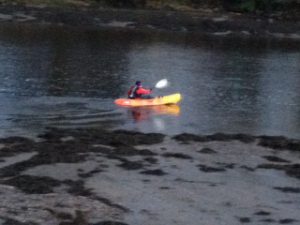 Transition was to add on some water proof clothing and take on some food.  I grabbed a bag with food and headed for the water. This was where a small mistake would come to haunt me later in the day. Life jacket on, into the water and away.  The first 15 mins were ok, working down through the estuary and heading for open water, time for a sandwich I thought! I went to get the sandwich and the bag was open and full of water, I didn't get too worried as I was out in rough water. The remainder of the trip was into a strong headwind and rough water. I was delighted to reach Rathmullan and back on land again. The cold was taking over and I needed to get on the bike and get warmed up.  Stage 2 – (1 hr 44)   
Stage 3 – 65 mile bike ride.
This bike section is very tough but takes in some spectacular scenery in Knockalla, Fanad, over the Blaney bridge a beautiful but relentless loop around Atlantic drive and heading for Lough Salt. I was fearing this section from the start and rightly so. This was a brutal climb and things were going down hill with how I was feeling.
The supporters at on the top of the Lough Salt climb was all that kept me going now. I was trying to figure out what was happening, why was I feeling so bad at this stage. The lack of food during the kayak was starting to catch up with me! Not long and Muckish mountain was in the distance.  This was stage 4 and I knew it was going to be tough. My energy levels were very low but I thought "I am going to finish this race".
Stage 4 – Muckish Mountain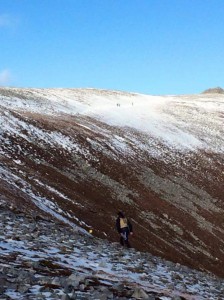 Muckish mountain or ' An Mhucais' which translates as the 'Pigs back' and what a beast this is! Getting up on to the back of this animal was going to be tough and even tougher coming back down. I got some food in, some extra layers for the cold and away I went. We were ankle deep in snow coming to the summit but at least I got to the top. 
I was struggling on the way back down and trying to figure out what was wrong. It didn't take long to do the calculations and to realize where it had went wrong. I had not taken on enough food for the first 4 hours. I got back to transition literally staggering down the road. I needed to sit down and steady the ship. I had a feast which consisted of a protein shake, sandwich, can of coke, salt and vinegar crisps, 2 slices of fruit cake, 2 cups of coffee, 5 digestive biscuits and a change of clothes, a long transition but I was back on the bike again. I could feel things improve over the next 90 mins and I was back on track. Stage 4 – (1 hr 11)   
Stage 5 – Back on The Bike
Back on the bike and this was a nice stage, more so because I was starting to feel normal again. A simple slip up in the morning with food started to snowball and it basically nearly put me out of the race. This stage raised confidence and with one big climb and some of the most beautiful sections around Bloody Foreland, through Falcarragh, Derrybeg, Gweedore, Dungloe, and on to Doochary. I was feeling a lot better now and looking forward to the marathon.  Downhill in to Doochary and in to the last transition. I made sure to get in plenty of food and stock up on water, another coffee and away I go. Stage 5  – (2 hrs 46)   
Stage 6 – The Final Stage
I Left Doochary heading out into the night on this final stage. The first 9 miles are mostly up hill so I started with caution and got a pace going watching HR. I was feeling good after 2-3 miles and made sure to keep taking fluids and gels regularly, lesson learned. Darkness came in fast and soon the head torch was on. I caught and passed Pablo Lopez after 8 miles, there is no pleasure in passing anyone in this race you are just willing everyone to the finish line.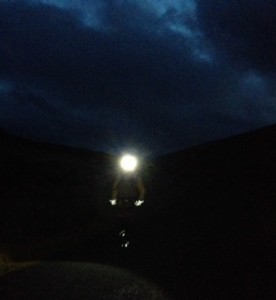 After 9 miles you are heading into the national park and you are on your own for the next 8 – 9 miles. This is what makes this race so unique, running through the park, what an amazing experience. Downhill for 3 miles then you are running along the lake shore, around the castle and 2 miles up hill as you head back out on the road again. I could hear the support crew shouting encouragement from a long way off. A rolling section over the next few miles as we came around Gartan lake and on the road home to the finish line. Running back down the drive back into Gartan 250 km later,  with the fastest marathon time of the day. With so many highs and lows throughout the day I was delighted with how I felt on the final stage. Stage 6 – (3 hrs 44 ) 
A big thanks to David Burns and Maghnus Collins for creating this great event, Gartan adventure center for their hospitality also to all the marshals and supporters who were out on the course all day. Big thanks to my own support crew who traveled up to Donegal for the race, especially Siobhan for putting up with me over the last few months in preparation for the event. Well done to fellow Déise man Ronan O'Brien who also took part in the Race.
If you are looking for the personal challenge that captures so much in one day, this is it…..this is special.…..this is The Race.