September started with Focus on Fitness athletes racing Ironman 70.3 World Championships and we closed out the year with Waterford AC Half Marathon.
Cotswolds End Of Season
Eoin Lyons continued on a great year taking part in the Cotswolds Olympic distance race en-route to Nice for the Ironman 70.3.
The race was based in Ashton Keynes, Wiltshire with some fantastic scenery of the Cotswold. Eoin had a great race taking the win overall in 1:54, winning by nearly 10 minutes.
Dingle Marathon, Dingle Half Marathon
The Dingle half and full marathon takes place around the spectacular Dingle Peninsula on a very scenic but challenging course. There was three Focus on Fitness athletes taking part. Ian Hayes finished the half in 1:54:05, Honor Lynch crossed the line in 2:04:57 and  Joan Mc Kenna finished in 2:14:24.
Lost Sheep Triathlon
The original Half Ironman distance race in Ireland and still one of the most popular races on the calendar.
The Cork Triathlon Club race is based out of Kenmare, Co. Kerry. It is a another tough race with a very scenic bike course and is always good for the after party.
Justin Foley and Ann Marie O'Keeffe took part in the race, competing in it for the first time.
Justin crossed the line in 5:19 and Ann Marie finished in 6:53:17.
Ironman 70.3 World Championships 2018
Another one of the big international races of the year was the Ironman 70.3 World Championships in Port Elizabeth, Nelson Mandela Bay, South Africa.
It is common place now to see Focus on Fitness athletes globe trotting to compete in the big races and this the pinnacle of the 70.3 distance calendar.
Brian and Katie Jacob had the opportunity to travel to and compete together at this big race.  With close to 6,000 athletes taking part over the two days, the female race on Sat and the male race on Sun it was a festival of racing.
The one loop 1,900 mtr swim in Nelson Mandela Bay was followed by a tough 90 km bike course on a rolling route. There was some windy conditions which is normal in the area and made for tough racing, but this is the World Championships after all.
Katie finished the race in 7:01:57 and Brian racing the next day with wet conditions in the morning finished the race in 4:57:27. It was a great opportunity to race at this level and make a holiday from the trip.
Round 8 of the Invacare League
The Thomas White Memorial 10 mile TT was round 8 of the Invacare paracyling league hosted by Banbridge CC. Seamus Wall a consistent participant made the journey and took part and covered the distance in 27:58.
Vancouver Triathlon/Na Wahine Festival, Hawaii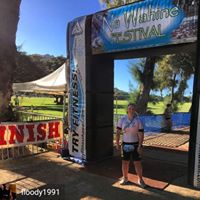 Aisling Flood had a busy week in September  taking part in the Vancouver Olympic Triathlon on a Monday and the following Saturday taking part in the Wahine Triathlon Festival Sprint race in Hawaii.
The Vancouver Olympic distance race was held in the scenic Stanley Park. Aisling was delighted to be back at triathlon finishing the race in  3:11:56.
The Na Wahine Triathlon in Honolulu, Hawaii was the next stop and she completed the sprint race in 1:29:28. A great finish to an amazing week of racing.
Waterford Greenway Half Marathon
West Waterford AC 2nd Annual Greenway Half Marathon going from Kilmacthomas to Dungarvan on the Waterford Greenway was a sell out race again this year. Shane Power finished in 17th place in 1:22:19, Stephen Butler ran 1:29:02 as a build up race to Dublin, P.J Aylward had a great race finishing in 1:47:58, Jill Stafford crossed the line in 1:55:02 also in preparation for Dublin marathon.
Hardman Olympic
Another race in the Hardman series of races in and around Co. Kerry. This was the Olympic distance race based in Killarney National Park. Myself, Jim O'Brien and Donal Daly took part in the race.
I finished in 4th place, 1st in AG in 2:12:23. I was using the race for race experience leading up to the Ironman World Championships in Kona Hawaii. Jim O'Brien using the race to prepare for Ironman 70.3 in Portugal finished in 2:34:03. Donal Daly was taking part in his first Olympic distance race and had a great race.
National Masters TT
The masters national TT championships was held in Shannon Co. Clare hosted by Club Rothaiochta.  Jason Travers took part in the 23.6 km course and clocked 37:15 for the distance.
Berlin Marathon
Berlin Marathon is one of the big World Marathons, with in excess of 44,000 athletes running the 26.2 miles on what is noted as a fast course. Julie Monaghan achieved her goal running 3.58:40, breaking the 4hr mark comfortably as set out in her plan.
The world  record was broken on the day with Eliud Kipchoge running 2.01:39 taking 1 min 18 sec off the previous World record.
Ironman 70.3 Nice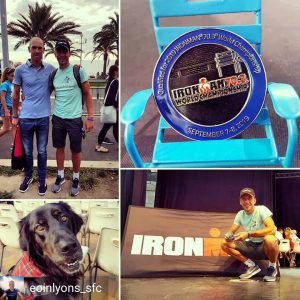 The Ironman 70.3 World Championships is taking place in Nice, France in 2019.
A new race on the Ironman  calendar this year Ironman 70.3 Nice 2018 was an ideal opportunity to race on the course as a practice run. Eoin Lyons and Stephen Collins made the trip to the south of France to finish out a great triathlon season.
The race consists of a beach start and a one loop 1.9km swim in the Mediterranean. A tough bike course with a technical descent and finishing off with a flat run along the promenade in one of the most beautiful parts of the world to hold a race.
A few changes in training over the previous few months for Eoin paid  dividends on the day.
A swim time of 28:26, bike of 2:43:54 and a solid run of 1:18:34, he finished 5th in AG with a time of 4:37:17 taking a place for the Ironman 70.3 World Championships in 2019.
Stephen had a great race swimming 48.34, bike 3.20.13, and run 1.50 finishing the race in 6:09:19.
Dungarvan Triathlon
Tried and Tested Triathlon Club held their big day of triathlon with their  Sprint and Olympic distance races. This has become a very popular race locally with entries selling out fast. The conditions on the day were very good for racing.
Luke Doyle finished in 7th place in the Sprint race and 2nd junior  in 1:17:30, Lynne Fitzpatrick 1:27:13, 2nd in AG and 5th female, Ciara Mc Sweeney was next in 1:34:09, Peter Whelan finished in 1:37:35, Gillian Lyons finished in 1:41:16, Richie Daly 1:41:50, Donal Daly won his AG in 1:50:26.
In the Olympic race David Devine took 3rd place in AG in 2:19:44 finishing in 8th place, Ken Dickinson finished in 15th place in 2:27:57, David McConnell 2:32:42, Breffini Loughman was next in 2:45:23 followed closely by Gerry O' Donoghue in 2:45:51.
Marie Slattery had a great race winning her AG and 5th female overall in 2:46:09, Aoife Trihy also had a great race winning her AG and 6th female in 2:48:29, Maggie Murphy was very close behind in 2:48:37 and 7th female and 4th in AG, Declan Mahony was next in  2:49:23.
Jennifer Hennebry crossed the line in  2:54:09, Tony McMahon was next, after a puncture he kept going to finish in 2:54:55, Liam Carey taking part in his first Olympic distance finished in 3:00:45.
Croppyboy 10k
The annual Croppy Boy 5 km and 10 km road race took place in Passage East. Liam Carey ran a great race finished 8th place in his home race crossing the line in 40:04. Susan Jacob ran the 5km finishing in 29:18.
Moby Dick Triathlon
The weather forced the swim to be canceled on Youghal for the Moby Dick triathlon. The race was turned into a duathlon on the day. Focus on Fitness was represented on the day by Maggie Murphy finishing in 1:26:12 and  Donal Daly crossed the line in 1:35:28.
Port Beach Sprint Triathlon,
The pulse triathlon club beach sprint race is the last triathlon of the year. The race was a National Series race and also a Super Series race so the standard was very high.  Luke Doyle took part in the race and finished 1:10:00 and finished 6th in the junior race, Marie Slattery also made the trip and finished 5th in AG in 1:21:55.
The Coalface Adventure Race 2018
The Coalface Adventure race in Castlecomer, Co. Kilkenny consisted of three distances for all abilities. Shane Power continued on with his great results moving from Duathlon to Adventure racing for the end of the season, he took part in the Elite 77 km race.
The four stage race mixed with biking and running on challenging courses was a great test for the athletes.
Shane had a super race winning the event comfortably with a margin of over 20 min when he crossed the finish line. A great result to finish out the season and with still one more race to go.
Dublin Half Marathon 2018
The SSE Airtricity race series half marathon took place in the Phoenix Park and is a great lead in race to the Dublin Marathon. Richie Daly used the chance to take in a last race before his first marathon finishing in 2:07:49.
Invacare League, Round 8
It was the end of a long Season for Seamus Wall with round 8, the final round of the Invacare league. Seamus has been consistent all year taking part in all rounds of the league traveling to all corners of the country. Round 8 was hosted by Sorrento Cycling club and held in Wicklow. Seamus finished 3rd in the handbike category in a time of 28:56.
Vadrafjford 5mile
The 5 mile race in aid of Waterford Hospice started in the City Centre.  The route  took the  runners out of town with a flat start before taking in the hills of both the Folly and Grange and then finishing with a fast 2 km back to the City Centre.
Jason Travers took 3rd place overall in 30:51, followed closely by Ken Dickenson in 4th place in 31:27, Peter Whelan was next in 40:01 and Gillian Lyons very close behind in 40:03, Katie Jacob was next in 44:40.
Ironman 70.3 Cascais, Portugal
One of the last races on the calendar on this side of the World is the 70.3 Cascais in Portugal. Jim O'Brien and Tony McMahon made the trip to race in what is a beautiful location and ideal to grab a few days holidays. This is a relatively new race on the calendar and very popular as it was a sell out in 2018. The single loop 1.900 mtr swim followed by a one loop 90 km bike course taking the athletes along the coast with some of the best scenery the area has to offer. The two loop 21 km run course is great for spectators and support for the athletes.
Jim was getting back from injury early in the year and had a great race crossing the finish line in  5:29:49. It was close racing between the lads with  Tony having another great race finishing in 5:34:08.
UCI Paracycling European Cup 2018
Seamus Wall was traveling again to finish out the season.  This time Prague was the destination to take part in the C1 Paracyling European Cup race. Seamus has raced here a few times before and is familiar with the challenging course for both the TT and the road race.  He finished 8th in the road race and the following day 9th in the TT in 22:26:37. This finished out a very consistent season for Seamus.
Quest Killarney Adventure Race
Another race in the Quest Adventure Race Series, Killarney has to be one of the most popular races on the calendar.
Shane Power and Liam Carey made the trip to Killarney to take part in the Pro 73  and expert 83km distance race. Shane finished out what was a very consistent season and won another podium place at this event,  all his hard work paying off.
Shane started  steady and worked his way through the field making up most time and positions in the last sections of the event only moving into 2nd place on second last leg. He finished in 2nd place in 3:24:58.
Liam had a great season getting into triathlon and finishing both sprint distance and Olympic distance races in his first year and only learning to swim this year. Some great progress with run times over the year has seen him make some great improvements and no doubt more progress to come. Liam took part in the expert 83 km distance  race and finished in  5:43:19.
Solas Run and walk for life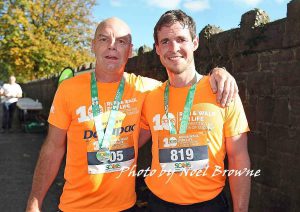 The Solas Run and Walk for life in aid of the Solas Centre celebrated its 10th year, with over 2,000 people taking part in the 10 km run and walk.
Ken Dickenson finished 15th in  40:53, Liam Carey had another great run finishing in 41:16, Gerry O'Donohgue improving all the time finishing in 48:51.
Marie Slattery finished in 49:11, Honor Lynch had another great run in 51:38, Ciaran O'Connor crossed the line in  51:02, Katie Jacob finishing in  56:23, Bob Cowman ran  57:29, Norma Goggin finished in  59:15 and Joan McKenna new to running and building distance finished in  1:05:57.
Ocean Lava (Lanzarote)

The Ocean Lava Triathlon is based out of Puerto Del Carmen with three distances on offer; Sprint, Olympic and Half Ironman distance. The race is organised by Kenneth Gasque, famous in Lanzarote when it comes to triathlon. The race now running for 9 years has built in popularity.
Bill Brown and Paula Roberts took part in the Olympic distance race. A very nice swim followed by a hilly and windy bike course, nothing new in Lanzarote and a flat run on the sea front to the finish. Paula finished in 3:08:06 and Bill finished in 4:09:16.
Ironman Barcelona
Over the last 2 years Ironman Barcelona has been one of the big races for Focus on Fitness athletes with big numbers traveling every year. This year was no different with 10 athletes taking in the race and 5 of those doing full Ironman for the first time.
This has become a very popular race, a good location for spectators and great opportunity to make a holiday out of the race, generally with good weather……until this year!
The forecast wasn't looking the best for the days leading into the race and everyone woke race morning to be greeted by wet and windy conditions and massive swell in the sea. Lucky or not depending on how you look at it it was a full distance swim even considering the sea conditions.
A big number of people didn't even start the swim and others had to be taken out of the water, but all the Focus on Fitness crew faced it up and came out the other side back on to land get to work on the bike. The flat and generally fast bike course lends to some fast bike times but windy and slippery conditions made things a little slower this year. A flat and very well supported run course finished off the day, heavy rain dampened spirits but at least kept everyone cool for the run.
David Devine was first out of the water, had a good solid bike of 5:06 but had to pull out of the race on the run due to illness. Don Ryan back in Barcelona for the second year and recording a PB, swimming 1:21, another solid bike in 5.30 and running a super  3.35 to finish 10:39. Next up and just behind Don was Mark Gater first time Ironman, first year in triathlon only doing a sprint race last June as his first triathlon, swimming 1:20, Biking 5:04 and running 4.10 crossing the line in 10:40. Anthony Kirwan was next, first time doing Ironman and 2nd year at triathlon swimming 1:14, biking 5.34 and running 3.48 and finishing 10:49, David McConnell a regular now in Barcelona with another PB swimming 1:12, biking 5.39 having taken a tumble on a roundabout in slippery conditions and running 4:04 he finished in 11:09. Ian Stenson was next over the line, first time Ironman again swimming a great time of 1:16, biking 6:07 and running 4.23 finishing in 12:06.  Micheal O'Connor first time Ironman again, swimming 1:19, biking 6:16 and running 4:42 finishing in 12:27. Bernie Mockler was back to Barcelona and setting another PB. She swam 1:28. biking 6:29 and running 4:42 finishing in 12:58. Ger Nolan was next over the line, a swim time of 1:29, biking 6:37 and running 5:01 finishing in 13:22. Tim O'Brien was next, first time Ironman again swimming 1:56, biking 6:42 and running 5:32 crossing the line in 14:28. Great results for everyone and super achievements for all the first time athletes getting over the line.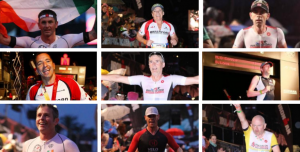 Dublin Marathon
The 39th edition of the Dublin marathon took place with over 20,000 participants lining up to run the 26.2 miles. It was a sell out race again this year and is fast becoming one of the big marathons. Conditions were perfect on the day for running and lent to some fast times on the course.
Martin Mizgajski finished out the year with another good result running 2:59:02, breaking the 3 hrs at his first stand alone marathon. Brian Jacob was next running a PB and crossing the line in 3:09:09, Tony McMahon is having some great running this year and set a PB finishing in 3:11:52, Stephen Butler also running a PB finishing in 3:18:53.
Stephen Collins finished out the year with the marathon running 3:20:10, Ian Grehan running his first stand alone marathon had a great race running 3.22:47. Jennifer Hennebry ran a PB crossing the line in 3:32:52, Ciara Mc Sweeney was next running the distance in 3:34:40, Ann Hennebry also ran a PB finishing in 3:57:01, Jill Stafford crossed the line in  4:15:11, Ian Hayes ran the distance  4:23:28, Richie Daly was running his first marathon crossing the line in 4:51:39.
Ironman World Championships, Kailua, Kona, Hawaii
This was the pinnacle and a dream come through for myself and Siobhan Kennedy to be lucky enough to qualify for and cross the finish line at the Ironman World Championships in Kona.  It was an incredible experience to race on the course that all of the best in the world have raced on over the last 40 years. I finished in 10 hrs 20 and Siobhan finished in 12:22. full race report can be found  here.
Clontarf Half Marathon
This flat fast half marathon course runs along Clontarf promenade and then onto Bull Island. Focus on Fitness was represented by Honor Lynch, Joan McKenna and Siobhan Keating. Siobhan  ran 2:15:57 and Joan and Honor finishing in 2:20:30.
Sanofi 5 mile
Well done to everyone who took part in the Sanofi 5 mile. Run conditions were perfect on the day with some great running from the Focus on Fitness crew.

Eoin Lyons crossed the line 3rd overall in 26:42, Jason Travers 29:58, David Devine finished in 30:18, Mark Gater 30:55 and winning his AG. Some very close racing followed with Tony McMahon 31:32 and winning his AG, followed very closely by Ken Dickenson in 31:40 and Brian Jacob in 31:41, also Anthony Kirwan 31:41. Jim O'Brien was next with 35:36 and Ian Stenson 36:18, Ciaran O'Connor ran a great race in 36:40 and Marie Slattery crossed the line in 38:05, Nigel O'Sullivan 39:23 followed very closely by Ger Nolan who finished 39:28, Bernie Mockler 39:55, a PB for Peter Whelan running 40:00 min on the button, Ann Hennebry ran 40:41, winning her AG, Katie Jacob ran 43:37, and Norma Goggin crossed the line in 44:26.
Beat the Train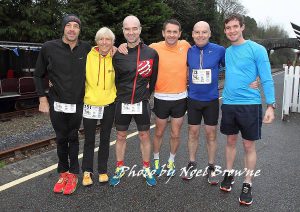 The Beat the Train 10 mile race takes runners on a flat course along the Waterford Greenway from Kilmeaden towards Waterford City before turning and heading back to Kilmeaden again. The race was in aid of DSI and is organised by Waterford Road Runners and Sinead 4 Fitness. David Devine ran 1:03:47, Shane Power 1:04:14, Myself 1:04:16, Mark Gater 1:04:23, Ken Dickenson 1:06:34, Brian Jacob 1:09:37, Siobhan Kennedy 1:11:32, winning her AG, Gareth Pope 1:12:05, Aoife Trihy 1:18:08, Marie Slattery 1:19:21, Peter Whelan 1:22:17, Maggie Murphy 1:25:42, Gillian Lyons 1:29:07, Norma Goggin 1:29:14, Katie Jacob 1:32:54.
Stook 10 mile
The race based out of Gowran, Co. Kilkenny is a  tough but fair 10 mile race with a flying 1 mile to the finish that is a PB opportunity for the distance. Anthony Kirwan took part in the race  finishing in  1:08:59.
Waterford AC Half Marathon
This has to be one of the biggest and best half marathons in the country at this stage. The race hosted by Waterford AC and  based out of the WIT arena had in access of 2,700 runners taking to the start line to cover the 13.2 mile fast course and collecting the now famous finishers hat.
Focus on Fitness had a massive turn out on the day with no less than 31 athletes going to the start line. an amazing amount of personal best times were achieved on the day.
First across the line was Eoin Lyons finishing in the top 10, 9th overall crossing the line  in 1:12:26 running a PB for the distance.
Shane Power was next finishing in 1:23:05,  Myself and Mark Gater  were next  finishing in  1:23:41, Mark running a 5 min PB on the course, David Devine crossed the line  in 1:25:19, Brian Jacob was next running 1:26:49,  Liam Carey running over a minute PB on the course in 1:27:12, Stephen Butler ran another PB in 1:27:31. Don Ryan ran a solid  1:27:51 followed closely by Anthony Kirwan in 1:28:03 and another PB by over 1 min, Ken Dickenson finished in 1:29:21.
Siobhan Kennedy running 1:32:06 and winning her AG on the day, Shane Bergin 1:32:25 running a 9 min PB, Val Brooks had another great race finishing in 1:34:26 and followed very closely by David McConnell in 1:34:39.
Gareth Pope had another great race running  1:37:42,  Jim O'Brien 1:41:23, Ian Stenson running a PB with  1:41:42 and Marie Slattery running yet another  PB finishing in 1:42:21.
Aoife Trihy  ran 1:43:04 taking 5 min off her best time for the distance, Gerry O'Donoghue ran 1:44;12 taking 6 min off his PB time, Ciara Mc Sweeney crossed the line in 1:45:34, Ciaran O'Connor running 1:46:09 and running a PB.  Nigel O'Sullivan running a great  1:48:17, Ger Nolan had another great time running 1:52:19, Maggie Murphy ran  1:54:18, P.J Aylward coming back from injury ran 1:54:28, and Peter Whelan 1:56:15.
Breffini Loughman and Gillian Lyons crossed the line with the same time of 1:57:43 with Gillian running her first half marathon  followed closely by  Katie Jacob running another PB in 1:57:54.
That was the end  of one hell of a year for Focus on Fitness and all the athletes, some great personal achievements, goals, great experiences all over the world with super results across all disciplines.
Thanks to everyone this year and well done, Happy Christmas, take some  time to relax and get some recovery over the next few weeks and look forward to another great year in 2019.
Photos: Focus on Fitness and Noel Browne