April was a busy month at Focus on Fitness..
We came to the end of Duathlon season, the start of Triathlon season and Focus on Fitness held its first Triathlon Training Camp in Lanzarote.
Easter Bunny 5 Mile Charity Run/Walk
Easter Sunday the annual Easter Bunny 5 Mile Charity Run/Walk took place, leaving from the RSC in Waterford. Weather conditions were good for the race and with a party like atmosphere there was something for all the family on the day.
From Focus on Fitness Eoin Lyons ran 29:56, Brian Jacob was next in 30:11, I was a few seconds behind, Eamon Ryan ran 31:16, Mark Gater was next in 32:28, Steven Wilmott in 36:09, Kate Nolan was home for the weekend and ran 37:19, Ger Nolan followed closely behind in 37:50. Anthony Kirwan accompanied Sonya on the run crossing the line in a fantastic  45.02.
Clonmel Duathlon
The following day Clonmel Triathlon Club Duathlon took place based out of Ferryhouse in Clonmel, a very enjoyable race on a great course. Focus on Fitness had a great day with many podium and AG results.
The weather was not looking the best for the day but somehow the rain held off for the race. Eoin Lyons, Martin Mizgajski and Brian Jacob had a bad start to the day after incurring a 2 min penalty before they even started the race (arriving late to briefing). This did not take away from the race and if anything pushed them on even more.
Eoin Lyons was 1st overall in a time of 1:08:14, 2nd place  was Shane Power in 1:08:31, 3rd place was Martin Mizgajski in 1:09:38, Brian Jacob was 5th across the line in 1:12;34 but adding on his 2 min moved him to 11th place. I finished in 5th in 1:12:46 winning AG.
Siobhan Kennedy was 2nd female over all in 1:22:37. Marie Slattery, Kilkenny Tri Club was 3rd overall in 1:25:39. James Roche won his AG, crossing the line in 1:26:34, Ciara Mc Sweeney was next in 1:28:00, winning her AG.
Great results on the day with Focus on Fitness taking home home a lot of the spoils.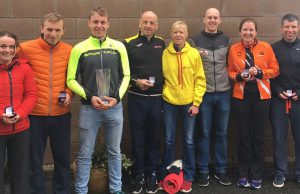 Battle of Ballinspittle Duathlon
On the same day in West Cork the Battle of Ballinspittle took place in wet and cold weather conditions.  Jason Travers had another solid race coming across the line in 1:04:52, taking 5th place and winning AG while also getting more points for the duathlon series.
Stephen Collins was next  finishing in 16th place in 1:11:06  and also  winning his AG. Neil Griffin crossed the line in 1:21:23.
Ballinroad 5k
The first of the spring and summer series of races started with the Ballinroad 5km in Dungarvan run by West Waterford AC. Katie Jacob ran the race and finished in 28:24.
Kilkenny Duathlon
The Kilkenny Tri Club Duathlon held in the grounds of Kilkenny Castle is always a very popular race, not surprising considering the organisation and location. As usual there was a very fast start to the race with the rundown from the castle, the pace was high from the gun, but it soon shook out and the race began.
It was a 3 man race up front with Martin Mizgajski and Shane Power in a battle again, as has been the case at every race so far this year.
Martin crossed the line in 2nd position in 1:02:05 with Shane very close behind in 1:02:13. I finished in 8th place in 1:05:36, Brian Jacob was next in 1:07, Mark Gater was next in 1:12, enjoying  getting to grips with multi-sport events. Anthony Kirwan was next in 1:13, followed by Liam Carey in 1:16.
Marie Slattery was next in 1:18:25 winning the female race at her home event.
Ian Stenson was next in 1:19:29, Nigel O'Sullivan crossed the line in 1:20:26, Ger Nolan 1:26:29, Peter Whelan 1:27:25, and Norma Goggin 1:37:42.
Banner Duathlon
The Go Tri annual Banner Duathlon is based in Shannon, Co. Clare.
Jason Travers was on the go again and racing another duathlon. A good day for Jason again, he is having a great season and took 2nd overall in this race. First time on the podium for Jason after crossing the line in 56:17.
 Youghal 5k
The Emer Casey 5km road race organised by Youghal AC took place on April 12th, another of the Spring/Summer evening race series, a great way to build pace when leading into the race season proper.
From Focus on Fitness Jason Travers ran a great time of 17:19, Don Ryan ran a great race running 18:46, with Stephen Collins close behind in 18:55.
Butlerstown 4 Mile Road Race
The next race in the west Waterford summer series was the West Waterford AC  SE2 Butlerstown 4 mile. This is a fast 2 loop course and is round 2 of the West Waterford AC summer race series. Perfect racing conditions on the night allowed for some great times.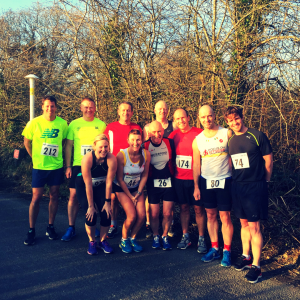 David Devine crossed the line in 24:10, Ken Dickenson finished in 26:07, Ian Stenson in 28:08, Steven Wilmott in 28;29, Neil Griffin 29:25, Nigel O'Sullivan crossed the line in 30:39, Ger Nolan in 31:50, Peter Whelan 32:31 with Bob Cowman next in 32:56, Sandra Hayden in 33:50, Aileen Windle finished 34:34, and Ciara Fitzgearld 37:06.
Hardman Duathlon
This new longer distance race is a welcome addition to the 2018 Duathlon calendar. It is based in Killarney and part of the Hardman race series.
The first run is 10km through the scenic national park followed on by the 40km bike ride out to Killorglin and back to Killarney. The 2nd 5km run is again through the national park with a finish in the grounds of the Castle Ross Hotel.
Shane Power had a great race finishing in 2nd place overall in a time of 1:5:26, Jason Travers had another great result finishing 5th in 2:00:32, I was 6th in 2:01:55, Brian Jacob was next in 8th place 2:04:01, Martin Mizgajski was 11th in 2:07:33 after having a little trouble with cramping after the bike section. Mark Gater was 19th in 2:12:55. Siobhan Kennedy had trouble at the start of the bike section and had to pull out of the race. Another good race with 4 in the top 10 and no doubt Focus on Fitness will be back to this great event.
Boise Spring Breakout Series  Road Race 2, Idaho, USA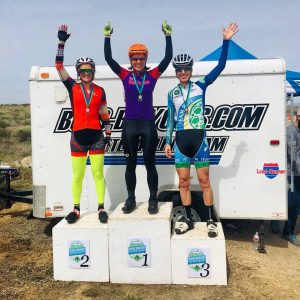 Race 2 of the road race spring series for Valerie Arechiga and another podium place. Valerie is using the bike racing as a break away from the long run sessions for up coming endurance races over the next 2 months. She is having a great season both running and on the bike with another great race.
 Carbally 5k
Carbally 5km community road race took place on a beautiful sunny evening, Fri 19th April.
Focus on Fitness athlete  Ciara McSweeney won the female race in 21:41

London Marathon
London marathon is one of the Big 5 marathons in the world and Stephen Butler was one of the lucky ones to get an entry for this years race. The atmosphere and spectators along the route are something that you need to witness first hand.
The weather on the day had the hottest temperatures on record for the race, not ideal when you have been training in single digit temperatures over the winter. It was going to be a tough day from the start, so adjusting to the elements was going to be important. Stephen ran a good solid race crossing the line in 3.51 enjoying a great race experience.
Longford Royal Canal Half Marathon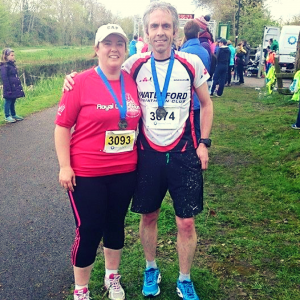 David McConnell made the trip to Longford for the Royal Canal Half Marathon.
A big event with an ultra marathon, marathon, half marathon and 10 km race on the day.
David crossed the line in 1:37:42 and congrats to Roisin who raced the 10k.
Great Railway run
The great railway run has an 25 km and 10 km option taking runners from Cork City to Carrigaline along the old railway line. Stephen Collins ran the 1o km run finishing in 9th place overall in a time of 42;29.
Ferrybank 10k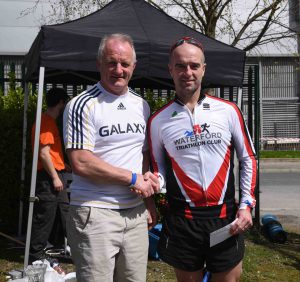 The Angela Burns Memorial 10 km road race was held in Ferrybank. David Devine ran a great race stepping onto the podium when taking 3rd place overall. David n 39:06 on the challenging course.
Phoenix Park Duathlon
The Belpark Triathlon club race series of duathlons is held in the phoenix park, Dublin each year.  The first race of the 3 races  was  one of the last races in the national duathlon series for 2018. Shane Power and Jason Travers took part in the race to finish out the duathlon series.
Shane finished 6th place in 58:44, Jason was having a good day and crossed the line  in 13th place but received a DQ for an infringement.
Volcano Triathlon, Club La Santa, Lanzarote
The Volcano Triathlon, first held in 1984 is based out of Club La Santa. It is one of the longest running triathlons in Spain, if not in Europe. It gives an opportunity to line up against some of the best triathletes in Europe in this highly competitive race.
The Olympic distance  race  came at the end of the inaugural Focus on Fitness training camp week. There was a lot of very tired bodies heading for the start line of the race but everyone was looking forward to getting the first race of the year done in open water. It was a 1 loop 1,500 mtr swim followed by a 2 loop out and back bike section to Famara, finally a 2 loop run completed the 10km run section.
The pace was fast from the gun, Eoin Lyons was first of the Focus on Fitness athletes across the line after have a little trouble in the swim he lost some time but was able to keep going finishing in 2:07:37 6th in AG, I was next in 2:18:59 5th in AG, Justin Foley followed in 2:37:55, Neil Griffin 2:42:42, Siobhan Kennedy had another great race and getting on the podium winning AG in 2:43:35, Tony McMahon 2:50:43, Jim O'Brien 2:59:00, James Roche 3:10:56, Nigel O'Sullivan 3:13:18,  Jim O'Brien 3:14:14, Ann Marie O'Keefe 3:21:34, Siobhan Keating 3:33:33, Norma Goggin 3:38:29.
It was a great week of training and to finish off with this great race was bonus. Plans are almost finalised for 2019. Contact Martin for info if interested.
Waterford to Tramore
One of the oldest road races on the calendar, the Blue Wall Waterford AC Waterford to Tramore road race always draws a big crowd and this year was no different. This popular  point to point 7.5 mile race starts in Waterford city and finishes at Splashworld in Tramore.
Shane Power was 12th place in 44:02,  David Devine 47:13, Ken Dickenson 49:49, David McConnell 51:05, Ciara Mc Sweeney 53:07, Steven Wilmott 56:00, Thomas Brown 58:17, Richie Daly 1:02:13, Jill Stafford 1:04:05, Honor Lynch 1:04:14, and Aileen Windle 1:05:49.
Joey Hannon Memorial Triathlon
The Limerick Tri club pool based race is always a sell out each year giving anyone with an early triathlon a chance to get the first race of the year out of the way. The 1,500 mtr pool swim is followed by a 40 km bike and 2 x 5 km loops in the grounds of UL.  A very strong field on the day gave for some great racing. Brian Jacob continuing on with some great results this year finished in 14th place with a time of 2:16:31, Anthony Kirwan was next building up to longer racing  distance this year finished in 2:33:21. Marie Slattery was next in 2:42:33 great preparation for Ironman 70.3 in Barcelona this weekend, and Bob Cowman finished in 3:01:35 building up to bigger things later this year. He was followed very closely by Karen McNamara in 3:01;41, also getting in race prep for the longer distance. Peter Whelan was next in 3:07:30 taking part in his first Olympic distance race.
Wexford Half Marathon
The Wexford half marathon took place on April 29th. Another one of the big local half marathons and a fast course. First across the line from Focus on Fitness was Martin Mizgajski finishing in a great 6th place overall in 1:21:56, Mark Gater crossed the line in 1:34:22, getting some good results so far this year preparing for his debut into triathlon. Eamon Ryan 1:37:27 was next with a good race, Maggie Murphy running in her home event ran 1:55:11.
Ironman Marbella 70.3
Ironman Marbella 70.3 in the Spanish Costa Del Sol is one of the early races in the Iroman calendar.  Mark Radley (Tried and Tested) took part in the race along with his brother Keith. Mark had a good solid race finishing in 5:54, getting a taste for Ironman racing.
Springbreakout Series Race 3
Race 3 for Valerie in the spring race series in Boise. Valerie finished 2nd place in the 3rd race which gave her 1st place overall in the series.
A great result considering it was the long distance endurance running Valerie was focusing on this year and only taking some time out for cycling more as recovery sessions.
Well done to all Focus on Fitness Athletes, some massive results and more to come.
#throughdedicationsuccesswillcome
Details and booking for Focus on Fitness Lanzarote Training Camp 2019 will be released shortly.
If interested please call for info.
I can be contacted through email or social media if you have any questions.
 Martin
CLASS SCHEDULE
**OPEN TO ALL**
Track Session Tuesdays @5pm @RSC, Waterford
If you have any goal races or need help with training give me a CALL