Indoor Rowing Cork
This was an interesting project and something new for some of the Focus on Fitness athletes to try out. For anyone who thinks indoor rowing is easy, give a go to rowing 2 km for time and see how intense it is! This is by far one of the hardest things you will ever do.
We trained for 10 weeks in the lead up to the South Coast indoor Rowing competition in Clonakilty with a weekly 6:30 am morning class. We all entered the 2 km individual competition and the team relay, rowing 500 mts each. Siobhán Kennedy, Brian Jacob, Katie Jacob, Bernie Mockler, Mark Rainer and I took part in the competition, with thanks to Cliona O'Callaghan and James Mc Murtry for stepping in to make up a 2nd relay team.
Siobhán Kennedy won her category pulling 8.06, Brian Jacob was next up in a very close race finishing 3rd in 6.44. I was next up in the same race as Mark. I was 3rd in what was another very close race, pulling 6:37 and Mark pulling 6:59.
Katie was next taking 3rd place with 8:19 and Bernie pulling 8:27 in her race.
Next was the team relay 4 competitors on one machine pulling 500 mtrs each changing out each person. This was probably the craziest thing I have ever done but great fun. Myself, Siobhan, Cliona and James were 4th in 6:45.
Brian, Katie, Bernie and Mark were 6th in 6.59.
This was a great experience, a great build up of fitness and a great day thanks to Ring Rowing Club for a great event.
Tinahely Duathlon
The duathlon season has been very busy and is coming to an end for this year.
Siobhán Keating traveled to Tinahely, Co. Wicklow to take part in one of the last races of the season. The weather conditions on the day were not the best but this didn't take away from the race. Siobhan finished in 1:37.
 Portlaw 5 Mile

The 1st race in the Carrick AC Outfield run series took place with the Portlaw 5 mile. This is a fast 5 mile run with a very fast first mile to get things going.  Stephen Butler was the first from the crew in  (0:30:37), David Devine, (0:31:59), Sandra Rellis, (0:38:40), and Emer McSweeney (0:40:01 ), winning her age group and making a great come back to running  in the last few months with more good things to come.
Splashworld 10k
The annual Splashworld 10km took place on May 12th. The conditions were very wet on the evening but some fast times were recorded. A good group represented Focus on Fitness at the race; Stephen Butler, (38:42), Darrell Evans, (39:46), Ken Dickenson, (42:32), Mark Rainer, (43:06), James Roche, (44:08), Ciara Mc Sweeney, (44.15), Davy White, (44:19), Bernie Mockler, (45:38), Rhona Hayden, (47:21), Sandra Rellis, (47:41), Julie Monaghan, (47:50), Eimear Mc Sweeney, (48:53), and Edwina Butler, (51:00). Liam Power picked up an injury and had to pull out  of the race.
Ironman 70.3 Mallorca
The first Ironman event of the year for some of the Focus on Fitness athletes took place in Mallorca, Spain. The conditions were hot as to be expected and some big climbs on the bike section were going to make for a tough day at the office. Eamonn Ryan, Nigel O'Sullivan, Neil Griffin and Jim O'Brien took part in the race.
The first event of the weekend was the Iron kids Triathlon which gives the younger generation a chance to take part in the spectacle that is Ironman. The race consisted of a 1,200 m beach run.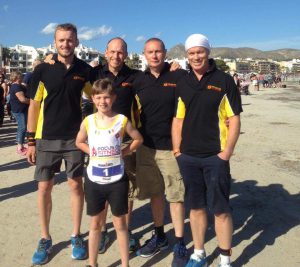 Nigel's son Ethan took part and finished well up in his race and was delighted to be part of the activities.
The main event kicked off on Saturday morning with the 1,900 m swim in what was great swimming conditions. Neil had a great swim clocking 32.23 for the distance. The bike was always going to be tough with a lot of climbing and an even tougher descent off the other side, finishing with a fast section back to transition.  With temperatures getting up at this stage the run was never going to be easy.
Eamonn didn't have a great few weeks leading in to the race with no running due to injury and very little swimming. However, he went well on the day finishing in  (05:54:19), Neil Griffin was next in (06:12:29), Nigel had a consistent race after having a few problems on the bike and finished in (6:15:30), Jim was delighted to be back racing again at long distance after some injury problems over the last 12 months. He had a great race and finished in 6:29:36.
They had great support over the weekend from Valerie, Ruth and Nigel's family.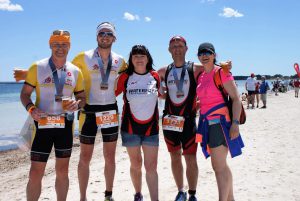 Tri795 in Carlow
The first local open water triathlon of the year and David Devine's local race.  David had a good start to the year finishing in 16th place (1:09:17)  and 3rd in age group.
Frank Fagan Memorial Duathlon

Frank Fagan Duathlon was held in Dunboyne, Co. Meath. This is  along distance duathlon starting with a 10 km run, 54 km bike and 3 km run to finish off.  This is a distance where you need to be very cautious in the 1st run to make sure you will last out the distance. Myself Siobhan Kennedy, Martin Mizgajski and Jason Travers traveled to take part in the race. Focus on Fitness had 3 in the top 6 overall with Siobhan taking 3rd in the ladies race. Siobhan had a comfortable lead but had a mechanical on the bike which cost her time. She made back up the time on the run and had a very close finish with 3 sec separating 1st to 3rd place at the line. I took 3rd place, Martin 4th and Jason 6th place.
2017 UCI Para-cycling Road World Cup in Maniago, Italy and Ostende, Belgium
Seamus Wall had a busy couple of weeks traveling to Italy and then on to Belgium to take part in the Paracycling World Cup races over two weekends. Each weekend consisted of a time trial and road race. In Italy Seamus finished 18th in the TT and lost contact in the road race which makes for a difficult race when left out on your own.
He moved on to the Belgium and finished 23rd in the TT and 27th in the road race.
Damien Vereker was competing with the national squad finishing 6th in the TT in Italy. He had some problems on the road race so didn't finish and had a 6th place in both the TT and road race in Belgium.
Ardmore 5 mile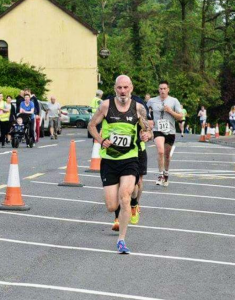 Jason Travers continued on his weekly race schedule and had a great race in the Ardmore 5 mile race. Jason broke the 30 mins (0:29:40)  for the distance, something he hasn't done in a good few years. Jason has had some very consistent racing over the last few weeks.
Ciara Fitzgerald also ran the popular race and is progressing all the time finishing  in (45:09).
Ironman Lanzarote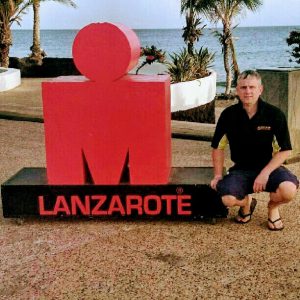 Without doubt the toughest Ironman race on the European calendar and possibly one of the toughest Ironman races outside of the World Championships. With the combination of  wind and the heat this is a tough day out and it is a great achievement to cross the finish line.
Ronan Todd took on the challenge this year and achieved what he set out to do and finish the race. A few foot issues on the early part of the bike set him back and he had to stop a couple of times to try to sort out the problem.
He reassessed the situation and changed his task to finish and not worry about time. Once off the bike he started into the marathon, walking he was determined to finish, things soon got a bit better and he was able to walk /run which got him across the finish line in 16:37.
Touraneena 5k
The next race in the Ger Wylie series was the Touraneena 5 km. Jason Travers took part in this race again and ran  (0:18:55), Ciara Fitzgerald traveled west as well and ran (0:27:38).
Well done to everyone who raced over the last few weeks.
The season is starting to get going already and there are some busy months ahead to look forward to.
Summer Classes ** OPEN TO ALL**
Tuesday Track, 5pm, RSC
Friday Morning (6.30 am)Functional Movement Class in WIT Arena continues over the summer. (Book a block every 5 wks (€40) or PAYGO €10)