August was packed full of races. Focus on Fitness athletes raced Triathlon, Road, Adventure Races, and Ironman 70.3.
The bank holiday weekend kicked off with the Marine Climb in Dungarvan.
The West Waterford AC Marine Bar sponsored Marine climb is a 6 mile road race that starts in Dungarvan. The flat road soon changes as the climb starts and winds all the way to the finish at the Marine Bar. This popular race is in it's 26th year and is a good challenge. Jason Travers finished in 13th place in a time of 38:51.
Carrick Sprint Triathlon
Carrick on Suir Triathlon club hosted the 25th anniversary of this popular race. It must be one of the longest running triathlon races locally if not in the country. Anthony Kirwan finished first from Focus on Fitness crossing the line in 1:10:47, Jim O'Brien followed in 1:13:57, Liam Carey 1:16:34, Breffini Loughman 1:18:32 and Deborah Forristal  1:32:33.
Loughrea Sprint Triathlon Festival
Predator Triathlon club hosted the Loughrea Triathlon Festival. Conor Shiels and Luke Doyle traveled to Loughrea for the Sprint race. Conor had a great race finishing 10th place in the Junior race in 1:11:13. Luke had  an accident coming off the bike early on putting an end to his race. No injury done and he survived to race  another day.
Triathlon Series Chodzież 2018
Martin Mizgajski travelled home to Chodziez in Poland and when there used the opportunity to take part in the Volvo Series Triathlon.
He had a good result at half Ironman distance last year, this year he took on the 1/4 distance which included a 950 mtr swim, 45 km bike and 10.5 km run. This was a lead in race for the up coming Ironman Dun Laoghaire 70.3.
Martin had a great race finishing in 2nd place overall in a time of 2:10:46.
Celtic Warrior Weekend
The Celtic Warrior weekend is a weekend filled with swimming, cycling and running with the opportunity to do full Ironman distance triathlon, or a Marathon each day and every distance in between.
James Roche used the opportunity to get in some long distance training.
James covered the half distance on the day in just over 6 hrs and followed it up with a half marathon the following day to finish off a great weekend of training.
Ballyduff 5 Mile
The West Waterford  AC, Liz (Eilís) Hayes memorial 5 mile is a fast 5 mile around  Ballyduff with some challenging hills mixed in on the course.  P.J Aylward took part and crossed the line in  39:29.
Rock And Roll Half Marathon Dublin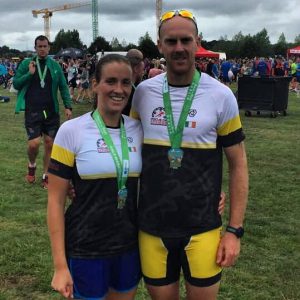 The annual Dublin Rock and Roll Half Marathon incorporating the Irish National Half Marathon Championships.
A new course this year made for a more challenging route to previous years but didn't deter the big numbers.
Brian and Katie Jacob took part as a build up to the 70.3 World Championships coming up later in the month.
Brian finished in 1:28:04 and Katie finished in 2:02:10.
Blackwater Triathlon
The Edge Sports, Blackwater Triathlon Club Sprint and Olympic distance Triathlon. The race in its 11th edition added an Olympic distance race this year to the list. A good crew from Focus on Fitness made  the journey to Fermoy to take part.
In the Olympic race Shane Power took the bike and run in the relay team "Just for the Lol's" Shane setting the fastest bike time of the day, finishing 3rd overall and winning the relay race in 2:15:44.
Anthony Kirwan had a great race finishing 16th place overall in a time of 2:30:44, Stephen Collins taking part in his home event finishing in 2:38:23, and Jim O'Brien followed in 2:44:47.
In the Sprint race Gill Lyons finished in 1:38:37, Donal Daly crossed the line in 1:48:29, Luke Doyle finished in 1:50:05 having missed a turn he completed the Olympic distance bike course making it 40 km instead of 20 km,  making it a good training day!
Tri The Hook

Another great local sprint race based out of Fethard On Sea in Co Wexford.  The very scenic race takes the bike course around the Hook Peninsula, with a cliff top run finishing back in the village.
Luke Doyle finished in 7th place coming 2nd in the Junior section in a time of 1:12:42, Ken Dickinson crossed the line in  1:17:48. It was the home race for Maggie Murphy finishing in 1:26:00, Aoife Trihy was next in  1:27:52, Liam Carey finished next 1:29:38, Gill Lyons finished in 1:33:43.
Worlds End Triathlon
The Worlds End Triathlon based in and organised by  Castleconnell Boat club located on the Limerick and Tipperary border.
The sprint distance race begins with the swim in the river Shannon, bike to Birdhill and the run is around Castelconnell.
Anthony Hughes and Breffini Loughman took part in the race. Tony had a great race finishing 20th overall and 5th in AG in 1:13:16. Breffini getting back into triathlon this year after a few years break from the sport finished in 1:21:17
Ironman Copenhagen
The next Ironman full distance for Focus on fitness athletes was Ironman Copenhagen.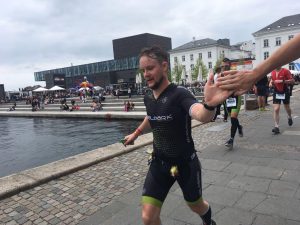 Ian Grehan and Nigel O'Sullivan lined up to cover the 3.8 km swim, 180 km bike and 42.2 km run that makes up the Ironman distance.
It was Ian's first time doing the distance, Nigel had done Copenhagen 3 years ago. Ian had a great top class swim with 54:05, bike in 5:34:27 and a negative split marathon of 3.38:32 crossing the line in 10:16:15 a great time for 1st time Ironman.
Nigel had a great race swimming 1:22:38, a great bike of 5:52 but a problem with nutrition at the start left him with no option but to just take what was on offer from the aid stations on the bike course. This caused some stomach problems on the run and didn't give him the finish he was capable of on the day. Running 5:03:11 and crossing the line in 12:34:50 he still took almost 90 min off his previous time, a great result considering the misfortune.
Ironman 70.3 Dun Laoghaire
A change in route this year for Ironman 70.3 saw the race based out of Dun Laoghaire, Co.Dublin for all 3 disciplines. The 1,900 swim in Sandycove, a challenging bike course over the sally gap in the Wicklow Mountains and to finish a half marathon around Dun Laoghaire, taking in a loop in and out the pier.
Marcin Mizgajski had a great race finishing in 4:58:24, 24th place overall, 4th place in his AG missing 3rd place by  a mere 7 sec, but winning a place at Ironman 70.3 World Championships for 2019 in Nice.
Jason Rosey finished in 6:07:44, Marie Slattery finished in 6:37:50, 7th in AG, Ian Stenson was next in 6:40:05, Tom Browne finished in 6:53:28, Paula Roberts finished in 6:55:36, 9th in AG.
James Roche crossed the line in 7:13:22, Peter Whelan taking on the distance for the first time finished in 7:18:42 and Karen McNamara finished in 8:11:21. Well done to everyone on completing this challenging race.
Quest 12/24 hr Race
Shane Power took part in the 12 hr endurance adventure race as part of the Quest race series in Kerry. The race consists of 6 stages, cycling running, climbing Carrauntoohil, Kayaking and finish with a half marathon along the Kerry way from Caherdaniel to Sneem.
Shane finished in 7th place overall in 8:55:41, a great result and transition from duathlon to off road racing.
Clonmel Half Marathon
The Clonmel AC Boston Scientific Half Marathon took place on a scenic fast course, taking in town and country. This is a good lead in race for Dublin marathon for a lot of Focus on Fitness athletes.
Stephen Butler crossed the line in 1:29:38, Ann Hennebry finished in 1:54:16, Jill Stafford finished in  1:54:38, Richie Daly finished in 1:57:53, Norma Goggin ran 2:03:50.
Hardman Killarney
The flag ship race in the Hardman series is the long distance triathlon held in Killarney, Co. Kerry.  Bob Cowman was returning to race having competed in the race 2 years ago. Bob did a lot of work over the last 12 months and got in to really good shape for the race.
An early start, it began with a swim in the famous Lakes of Killarney before cycling the full length of the legendary Ring of Kerry. The marathon took competitors through the spectacular Killarney National Park.
Conditions on the day were good and Bob had a great race  on what is a tough course for the distance finishing in 14:25 taking 2.5 hrs off his previous time.
Another great month!
Well done to all Focus on Fitness Athletes, some massive results.
#throughdedicationsuccesswillcome
Places are filling fast for
with Eoin Lyons back as swim coach for 2019.
Check out the 2018 video for #FocusLanzarCamp18
and book today.
Early bird rate finishes 31st September!!
Great training for upcoming Ironman Ireland 2019, Youghal, Cork
If you are interested please give a call and we can start working towards you having your best possible race experience.
expert instruction in all disciplines

immediate feedback