TriAthy XI – 3rd June
This is one of the most popular races in the Triathlon calendar, and this year was no different. With 4 different race distances and over 2,000 people taking part the atmosphere was amazing; made even better by the good weather conditions.
The big race on the day and first off was the Double Olympic: Noel O'Regan new to FOF finished in (4:54:25), Anthony Hughes, (5:11:38) was using Athy as preparation for Ironman Bolton coming up in the next few weeks,  Don Ryan also new to FOF finished in (5:14:44), Gareth Pope, (5:26:30) Davy White, (5:59:44), and  Tricia Quinn (4:46:35)  had a great race and due to coming back from recent injury only did some of the run course.
Next up was Olympic distance: Focus on Fitness had 4 inside the top 10 in this race. There was a big battle going on at the front of the race between Rory Sexton and Eoin Lyons but in the last 2 km the athletes were sent in the wrong direction putting an end to what would have been an exciting finish. The top 3 decided to cross the finish line together showing a great respect for each other.  Eoin Lyons was officially 2nd in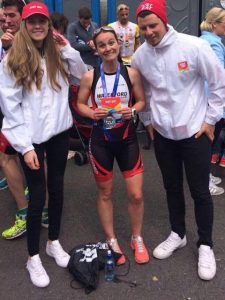 (2:02:26), John Hayden 4th place in, (2:08:39), Marcin Mizgajski in 8th in (2:11:36) I finished in 9th  (2:11:44), Brian Jacob, (2:17:26), Stephen Butler, (2:28:36), Paul Cahill (2:29), Stephen Collins (2:31),  Siobhán Kennedy (2:35:40) winning her age group,  Neil Griffin, (2:35:47), Anthony Kirwan (2:40:43), Nigel O'Sullivan (2:43), Bernie Mockler, (2:54:57), Ann Hennebry, (2:56:15), Katie Jacob, (3:06:14), Julie Monaghan, (3:10:08), Norma Goggin, (3:10:28), Susan Hayes, (3:11:43), Siobhan Keating, (3:25:48).
Sprint distance: More great results in this race with 4th overall for David Devine, (1:07:09), Ken Dickinson, ( 1:15:23), Ciara Mc Sweeney, (1:16:04), taking a podium at this race, 2nd Lady overall, and continuing a great season. Colin Dunne followed in (1:28),  Edwina Butler, (1:29:37), Richie Daly, (1:34:06), and Tim O'Brien (1:42). Paul Rossiter raced the relay in the Olympic race, disaster struck at the end of the bike when he was involved in a crash, he continued on battle worn to finish the run.
A big well done to everyone in this race, I hope I didn't forget anyone! A lot of good results and some great finishes for a lot of athletes who were racing or moving up to longer distance for the first time.
 Cork City Marathon
Maggie Murphy took on the challenge of the Cork City Marathon in preparation for Ironman later on this year. She had a great run finishing in 3.59 taking 27 min off her previous PB for the distance. This is a good confidence builder going on for the rest of the year.
Hillfest Duathlon June 3rd
One of the last Duathlon races of the season, this race is based in Watergrass Hill in Cork, part of the Hillfest weekend. The distance was a little reversed on this one with a 3 km run, 20 km bike and 5 km run to finish off. Jason Travers was racing again this weekend and took victory in the race. Another good weekend for Jason and a well deserved win.
Munster TT June 10th
The Munster TT Championships took place in Patrickswell, Co. Limerick. The weather on the day made for a tough bike on the 18km out and back route.   I stopped the clock on (25:45), and Jason Travers, took away a Munster medal with 3rd place in the  A4  category in (26:57).
Tri an Mhí June 10th
Tri an Mhi Olympic distance Triathlon took place in Collinstown, Co Meath.  Nigel O'Sullivan,  David Mc Connell, and Jim O'Brien,  made the journey up for the race. The conditions again that weekend were tough on the day. David finished in 2:29, Nigel 2:46, and Jim in 2:55.
Ironman 70.3 European Championship June 17th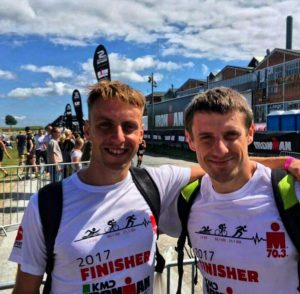 The Ironman 70.3 European Championships took place in Elsinore, Denmark. Focus on Fitness had Eoin Lyons and John Hayden taking part. This was a big race for the lads as they build up to the World Championships later in Sept. The course was fast but technical with a total of 15 buoys in the swim and nearly as many turnarounds on the bike.
Eoin put in a top class swim (23:51), putting him well up in his age group. John swam a very solid 30 min for the 1,900 mtrs. With the swim behind them it was out on the bike course for both lads.  The temperature was rising and it was going to be a very hot run for this race. Eoin biked 2:14 averaging 40 kph for the 90 km bike ride. This placed him in 2nd place in his AG heading out on the run. John was not far behind biking  2:18 another very good bike time  for the distance. The heat was starting to take its toll. 
Eoin had to dig deep to try to hold on to a podium place running 1:24 taking 3rd in his AG, another podium place, this time a European place finishing in 4.08. He was well up overall and 5th age group athlete over the line.  John ran 1:40 and finished a very respectful 4.35. This is only Johns 2nd year in triathlon and he is already competing at a very high level.
Waterford Triathlon Club June 17th #HOBC Triathlon
The local triathlon took place in picturesque  Dunmore East and was hosted by Waterford Triathlon Club. Conditions were near to perfect on the day. This was the first triathlon I ever did myself and it was great to go back and take part again. The new run route around the grounds of the golf  course was a great addition to the race with some amazing views.  I finished in 5th place in (01:06:57),  John O Rourke was 6th in (1:08:44),  Tom Cousins, (01:09:58), Ken Dickenson, (01:18:52), Anthony Kirwan, (01:20:00), Tony McMahon, (01:20:02),  Richie Daly, (01:34:26), Siobhán Keating, (01:39:34), Anne Marie O'Keeffe, (01:40:03). Paul Rossiter and Fiona Aglim took part in the relay, Fiona did the swim and Paul biked and ran.
 Valentia Triathlon, June 17th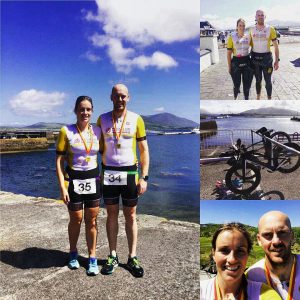 An old favorite and a very popular race. A lot of people make the trip to Valentia Island, South West Kerry every year for this scenic sprint triathlon.
This is a great race, with the novelty of getting the ferry to the mainland for the swim back to the Island starts things off. A tough bike and uphill first half to the run makes for a challenging race.
Brian and Katie Jacob made the long trip back to where they started their triathlon careers. Brian finished in 4th place in 1:05 and Katie finished in 1:26, 8th female.
Blessington Triathlon June 18 th
Blessington Olympic distance triathlon also took place on what was a very busy weekend of racing. Jason Rosey and Paul Cahill took part in this race where the conditions were very hot again. This was the first triathlon race of the season for both lads, with Paul finishing in 2.43 and Jason in 2.58.
Invacare league round 5 and National TT Championships
Round 5 of the Invacare paracycling league took place in Wicklow on June 17th. Seamus Wall continued with his consistent racing taking 2nd place again on this round in the hand bike category. This was followed on in his native county, with the National TT Championships which was held in Johnstown Castle in Co. Wexford.  Seamus took silver again in this the biggest race of the season.
Damien Vereker continued with a great season winning in Wicklow and also winning the open category at the National Championships another great result for Damien. Both Seamus and Damien are heading off again to compete in the next round of the Para-cycling world cup  in Emmen Holland on July 1st and 2nd.
Waterford Viking Marathon, Half Marathon and Quarter Marathon, July 24th
Another great local race with a big turn out from Focus on Fitness athletes. The new route started in the city centre, headed out of the city over both bridges, on to the new Waterford Greenway with the finish at the WIT Arena in Carriganore.
With over 3,000 people taking part this year it puts it high on the list of marathons in Ireland. A  few of us made a brick session out of the day and did a couple of hours on the bike before the start.
In the quarter I ran 42:21, Jason Travers 42:36, Brian Jacob 44:07, Tony McMahon 47:23, Siobhan Kennedy 49:10, Rhona Hayden 58:00, Ann Hennebry 1:00:19, Colin Dunne closely behind in 1:00:26, Sandra Rellis  1:00:35, Ger Nolan coming back from injury ran 1:01, Katie Jacob 1:06, Julie Egan 1:11, and Sinead Power 1:29.
The half marathon was probably the most popular of all the distances. Marcin Mizgajski ran 1:25, Stephen Butler 1:31, David McConnell 1:32, Anthony Kirwan 1:32, Gareth Pope 1:36, Bernie Mockler 1:47, Neil Griffin 1:48, Karen Power 1:53, John Paul Williamson 1:53, Richie Daly 1:58 taking 20 min off his PB, Norma Goggin 1:58, Peter Whelan 2:00:20 that damn 20 sec!! Eimear McSweeney 2:00:42, Aileen Windle 2:08, Liam Power 2:06, Susan Hayes 2:06, Ciara Fitzgearld 2:15.

Some more great results and plenty of PB's across all distances.
Another great month and a lot of great, consistent performances by all at Focus on Fitness.
Summer Classes ** OPEN TO ALL**
Tuesday Track, 5pm, RSC
Friday Morning (6.30 am)Functional Movement Class in WIT Arena continues over the summer.
(Book a block every 5 wks (€40) or PAYGO €10)